Worship at the Church of the Resurrection
Worship is much more than singing or speaking praise. We aim to worship the Lord with all our heart, all our mind, all our soul, and all our strength.
Sunday 9:30 – Holy Communion Family Service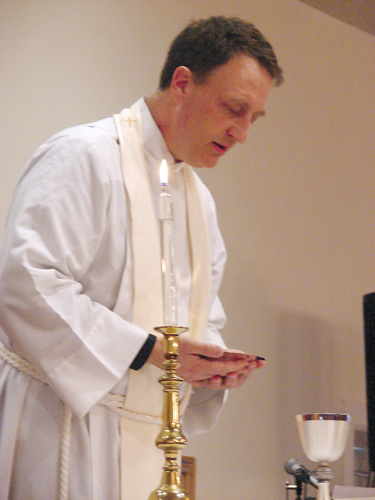 Our Sunday Worship Service can be characterized by four "R's:"
Revere – We worship God – for Who He is, praise Him for His mighty works, and thank Him for His faithfulness – through music that is a blended style of ancient hymns and modern worship songs.
Reflect – We hear the reading of God's Word and reflect upon what He teaches us through the messages given by Senior Pastor Bill Steinberg and on occasion, a guest speaker.
Receive – We reach the climax of our service when we receive from Jesus Himself in the remembrance of His Last Supper, as we partake in the celebration of Holy Communion.
Respond – As we are fed spiritually, we respond by feeding others physically.  Each week following our service, we work together to prepare 80-150 bag lunches to feed hungry families in the Fuquay-Varina area for the 'It's In the Bag' Ministry.  You can read more about that ministry here.
Nursery care is available weekly for infants and toddlers 6 weeks – 3 years.   REZKIDZ Children's Church is available mid-service for children age 4K-5th grade.
Save
Save
Save
Save
Thursday Night Supper & Teaching Mini-Series 
6:30pm-8:00pm
"Bread And Wine"  Series
Join us Thursday evenings as we begin a Lenten series Bread and Wine. The series is taken from a devotional book of the same title. Each session will be built around one or more of the meditations from the book, and each session will be centered around a Lenten theme.
Each week in Bread and Wine stands on its own. This is not a series wherein one week builds upon the one before. If you miss tonight, feel free to join us next week!
A provided supper begins at 6:30pm, class starts at 7pm. Join us for either or both. Kids are welcome to come too!
Note: Childcare is available this evening!
If you have any questions or need help in any way,
please give us a call at (919) 632-4904  or you can just click on this:
Contact Us